The University of the Philippines Dragonboat Team (UPDT) is a duly-recognized member of the Philippine Canoe-Kayak Federation (PCKF). Established in 1993, UPDT has been one of the leading teams in the dragon boat community. Having won several medals in the past, the UP Dragonboat Team is once again in top competitive form.
The University of the Philippines Dragon Boat Team (traditionally shortened to UPDT) was formed in 1993 by students from the College of Fine Arts, who had previously paddled with PDRT. Some of UPDT's most illustrious alumni include Noelle Wenceslao, one of the first three Filipinas to summit Mt. Everest, and founder Jeff Galindez, who is widely credited with bringing dragon boat to Boracay island.
Ten colorful years later, UPDT has grown to become one of the most active (and boisterous) teams in the local dragon boat community. Rowdiness aside, another defining characteristic of UPDT is their intense competitiveness—even teammates turn against each other in the highly anticipated, post-race Bow versus Stroke Games. Paddlers from other teams, provided they still have enough energy after the actual races, are welcome to join the carnage.
Paddle with us!
Tuesdays: 4:45am – 6:00am
Wednesdays: 4:45am – 6:00am
Thursdays: 4:45am – 6:00am
Saturdays: 7:45am – 10:00am
Schedule may change without prior notice. Please send us a message through Facebook one to two days prior to intended date of attendance so we can inform you of the updated schedule.
Bay Training Venue:
CCP Parking lot, Manila, Philippines
Must bring:
Extra set of clothes
Bottle of water or sports drink
*Paddle will be provided by the team
Fitness requirements:
We are open to students and alumni of the University of the Philippines.
No specific age requirement (present members age range is 16 to 40).
Swimming experience or 100m capacity is preferred.
Physically healthy individuals with no history of chronic illness do not need medical clearance.
Individuals with history of chronic illness (hypertension, diabetes, heart disease, etc.) will need clearance from their physician.
What to expect:
The orientation will be integrated during actual paddle training. An ample amount of time will be alloted for teaching of:
sport terms/commands
handling of paddle
stroke cycle and proper form
As with all the resident members, newbies are expected to join in during warm-up exercise and cool-down stretch.
JOIN US!
| YEAR | RACE | AWARD |
| --- | --- | --- |
| 2017 | Hong Kong Dragon Boat Carnival | 3rd Place – 400m Mixed Small Boat |
| 2016 | 2016 Puerto Princesa International Club Crew Championship | 3rd Place – 200m Women's Small Boat |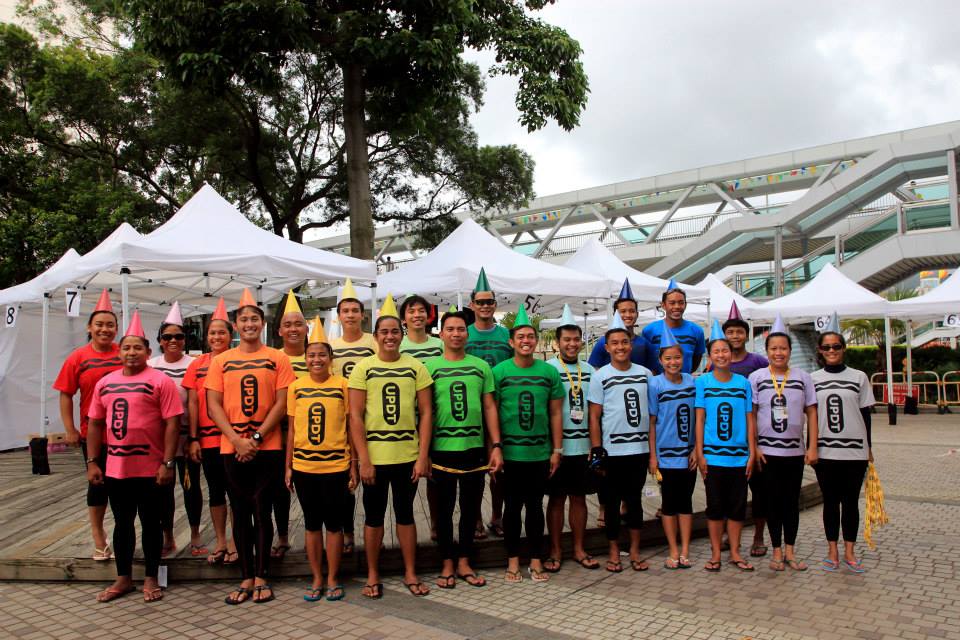 TRAINING LOCATION
WEBSITE AND SOCIAL MEDIA
CONTACT DETAILS