Project Description
Thank you to Dennis Anacin for this write-up!
The Philippine Titans Dragon Boat Team was founded by a group of paddlers led by Ms. Marylene Lumbre, its current team manager, in May 2014, comprised of paddlers from Manila, Boracay, and Singapore, along with rookies in the sport. The team has psych majors, fitness instructors, certified dragon boat coaches, former varsity players and coaches of other sports, all of whom bring their expertise on board. The team was set with the highest goal of competition locally and abroad. Intermediate goals include physical development, teamwork, sportsmanship, and humanitarian service.
The Titans' first race was held in Puerto Princesa City in 2014. The team made it to the semifinals. Despite being outpaced by more experienced teams, the Titans made a remarkable win in one of their preliminary heats against the team who ultimately won as champion in the mixed category. In another recent race in Iloilo City, the Titans' women's team came away with a 3rd place finish, while its mixed Team wound up 4th place in the finals heat. All things considered, the Titans consider their first year to be full of achievement. Coming close to the gold in just their first two races has whetted their appetite to finish stronger in the next races.
The Titans' veteran paddlers have positively influenced the rookies as they now train diligently to learn the techniques of the dragon boat sport. The team offers world-class dragon boat training with Coach Ricky Sardena, a former pacer and team captain of the Philippine National Dragon Boat Team and multiple-time World Champion and World Record Holder. He makes sure that the team trains hard but has enough recovery and fun in between training sessions—a spirited game of Patintero has become a matter of routine after training sessions.
The team has a unique yet simple organizational set-up. Unlike other teams where there are officers, the Titans have a coach, a team manager, and then the rest of the paddlers, all of whom have a say on team matters. All paddlers are considered equal in standing. The coach paddles with the rest of the team during races, as well as the team manager whenever her schedule allows it. As attested to by a rookie paddler, Angela, 19, "Every paddler is willing to go out of their comfort zones for the team. The Philippine Titans is not only my team but also my family." Joaquin, 17, is now in rehab from his 2nd ACL injury and says, "I'll be diligent in my rehabilitation and recovery, looking forward to race with the Philippine Titans!"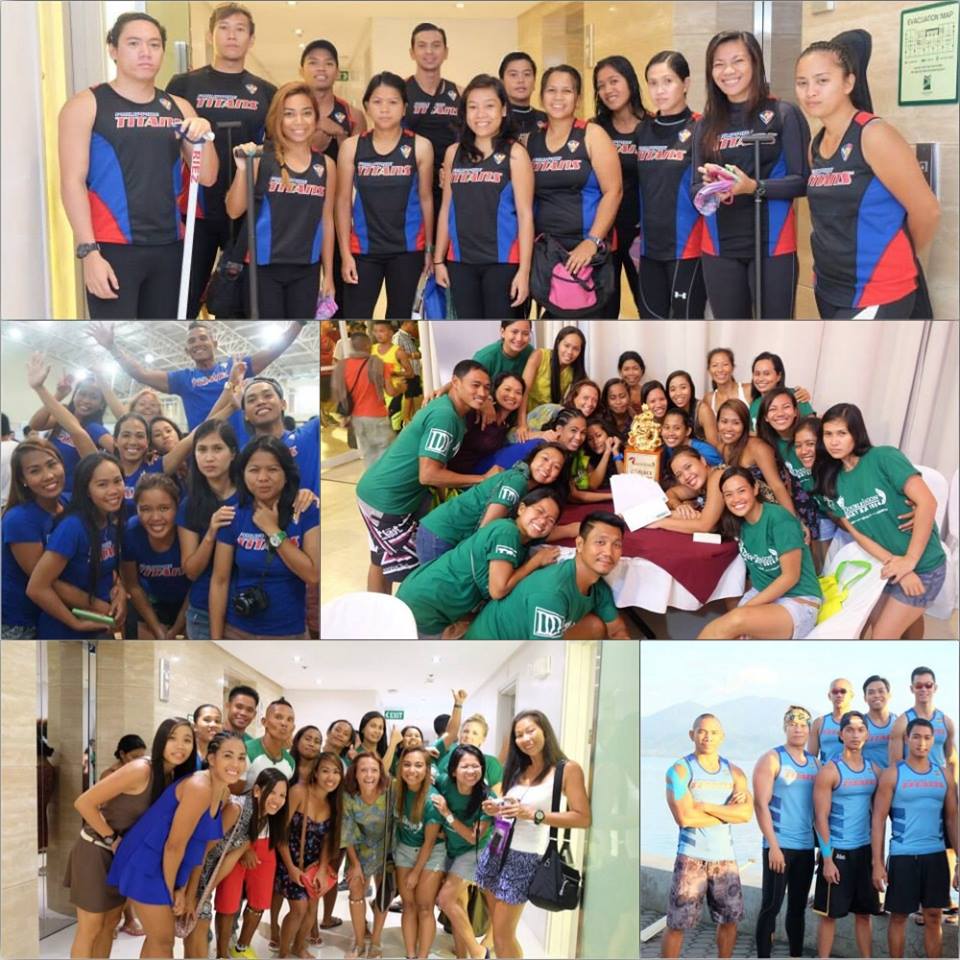 The Titans are open to anyone who likes sports. Dragon boat not only offers adrenaline-filled races and great post-race parties, but it is also an excellent cross-training platform for fitness enthusiasts. Those interested may contact Mr. Ryan Taclan at 0917-5500911 and Ms. Shella Dionco at 09178456311 for information on training schedules. The Philippine Titans Dragon Boat Team page may also be messaged on Facebook.